By: Jane Shersher, LSW & Founder of Counselors Autonomous
<!- mfunc feat_school ->
<!- /mfunc feat_school ->
The environment in which you conduct your work often parallels your productivity. Something as simple as the color of your office walls could have an extreme impact on your work ethic. Research suggests that when it comes to work spaces, form follows function. There are many factors regarding your work environment that have an affect on your productivity. Bellow is a review of some of them and how they can help you to get more done in less time:
Get Access to Nature
It's been known that schools with more naturally lit classrooms provide a better learning environment and result in higher test scores. Even if you are given the office in the corner of the building with no windows or ventilation, seek some fresh air whenever you can. Whether it means sitting in the park during your lunch break, or stepping outside for a breath of fresh air during a bathroom break, make time for your skin and eyes to feel the sunlight and create a biological response. If you are lucky enough to have windows in your workspace, allow yourself time to take a mental step outside of your workspace and gaze out at the outside world.
In a study from the British Council for Office, researchers found that 90% of employees believe that featuring art prominently in the workplace boosts overall productivity. Hanging images in the workspace of nature can boost inspiration, improve productivity, strengthen your focus, and reduce your stress level. According to Linda Cordair, operator of the Quent Cordair Fine Art gallery, fine art shapes the company's character while images of nature do more to reduce stress. Decorating your walls with art is easier than you think: there are now rental services that allow workplace interior designers to quickly pick out pieces of art for a fraction of their original price. Or play it by the penny by framing posters. I often even cut up cards that I love or postcards that host images that inspire me or bring me a sense of peace and empowerment and just tape them to my wall or tack or frame them in my office and home.
If wall art is not your thing or not an option for you, a small potted plant is just as good. The benefits of a small green desk buddy in the office are endless. In a study conducted in 2010 by New University of Technology Sydney, plants in the office space have been proven to reduce tension and anxiety by 37%, reduce depression by 58%, reduce anger and hostility by 44%, and reduce fatigue by 38%. This study shows that it only takes one plant per workspace to provide a significant lift in staff spirits, thus promoting wellbeing. A research group at the University of Exeter also found that with the presence of plants in the office, productivity increased by 38% and creativity by 45%. Some of the most popular plants in the workplace include: aloe, spider plants, cactus, succulents, ivy, rubber plant, and the peace lily because they can handle the types of lighting available within common office spaces. The peace lily has also been identified by NASA as the best natural air filtration system that you can get in your place of work or home, so double whammy there! Taking care of another living being provides emotional connection, a sense of purpose, and grounding in life during both the good times and the bad. Just make sure you do your research and know how to get the right kind of plant in the right space (lighting and water needs, and the right pot) so you don't have to worry about killing the thing and retain fulfillment from the task.
<!- mfunc search_btn ->
<!- /mfunc search_btn ->
Color
According to color psychologist Angela Wright, color can profoundly affect behavior. Different colors will benefit your output differently. Blue for example, is the most effective color to stimulate the mind. A blue paperweight or pencil holder can offer a potential extra boost in focus. Adding a splash of yellow into your workspace can stimulate ego and spirits and strengthen optimism. A yellow daffodil or painting of the sun can be helpful in boosting confidence and creativity. Traces of green across the workspace can help to sooth and create a sense of balance and harmony. Putting up green curtains, having green folders, or having a green pot with a peace lily plant in it can go a long way.
Noise Control
Noise is a very strong factor for productivity in the workplace. Noise has the ability to either enable or disable productivity depending upon the type of work required and each individual's preference of work environment. Interestingly, noise interruptions during simple tasks can actually provide the stimulation needed to keep going (think coffee shop). However, this is not the case for more complex work. Often times, the noise surrounding the workspace is out of the person's control. However, here are some ways in which you can control it to your best ability:
According to Harvard Business Review, a carpet in the workplace can absorb sound. It can also provide a more grounded work environment, as I find that carpets often bring the whole room together in terms of a design element as well as providing the added benefit of warmth and texture change for sensory integration.
Another idea would be to bring headphones and listen to classical music or binaural beat sounds through website such as: Brain FM. If you cannot focus with music, try Beats noise cancelling headphones with nothing playing through them. If the headphones do not entirely cancel out bothersome noise, you can try looking up "white noise" on YouTube- these sounds will drown out other distracting sounds and will blend to be subtle background noise. I also use the following apps to provide soothing ambient noise for both work or when I'm trying to fall asleep or meditate (designate some for working and some for soothing times so that your brain is trained to fall asleep when it hears certain sounds rather than thinking of work in bed): Dormio, NatureScenes, Relax Sounds, Nature Sound, Naturespace.
Available on the market are also sound absorbing materials that reduce distracting noises such as specific foam panels, and even special curtains or throw blankets. Check out these awesome materials that can serve a dual purpose of noise control and decoration, one from Johanson Design and the other from pintrest's sustainable design page:
https://www.pinterest.com/explore/sustainable-design/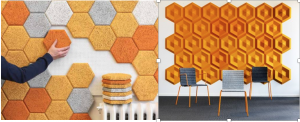 Or you could use moss tiles: http://inhabitat.com/6-fuzzy-ways-to-green-up-your-space-using-live-moss/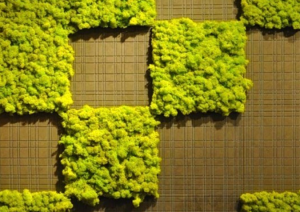 Surprisingly, plants can help to reduce background noise in the workspace as well. Plants have the ability to reduce noise as much as five decibels. This website can offer a great overview of good ideas for sound control, stress reduction, and good workplace design: http://inhabitat.com/beautiful-sound-absorbing-echopanels-are-made-from-recycled-plastic-bottles/
I hope you have fun making your space your own to meet your needs, and I wish you happy working! Please share which strategies worked for you (or which I haven't mentioned that you would like to share with others) on the Counselors Autonomous facebook group here: https://www.facebook.com/groups/494660900560106/?ref=br_tf
Resources:
– The University of Exeter. (2013, July 9). Office plants boost well-being at work. Retrieved from http://www.exeter.ac.uk/news/research/title_306119_en.
–
– Bailey, C. (2013, June 27). The exact color to paint your office to become the most productive. Retrieved from http://alifeofproductivity.com/angela-wright-interview
–
– MacKay, J. (2016, July 25). 5 simple hacks for a more productive work environment. Retrieved from https://crew.co/blog/5-ways-to-hack-your-workspace-for-productivity-crew-backstage
–
– Barry. (2013, August 6). 8 Benefits Of Plants In The Office. Retrieved from http://www.ciphr.com/blog/plants-in-the-office.
–
– Calisi, C. Stout, J. (2015, March 16). Stop Noise from Ruining Your Open Office. Retrieved from https://hbr.org/2015/03/stop-noise-from-ruining-your-open-office.
–
– Brassfield, M. (2014, July 5). Why Companies Should Have Fine Art in the Workplace. Retrieved from https://ridiculouslyefficient.com/blog/fine-art-in-the-workplace
<!- mfunc search_btn ->
<!- /mfunc search_btn ->